Sovereign Grace Baptist Fellowship: How It Began
---
On February 22, 2000 a group of men sharing something of the same vision as outlined by Bro. Holmes Moore met in Nashville, Tennessee at the Sovereign Grace Baptist Church for the purpose of exploring the possibility of forming a fellowship of Baptist Churches and pastors.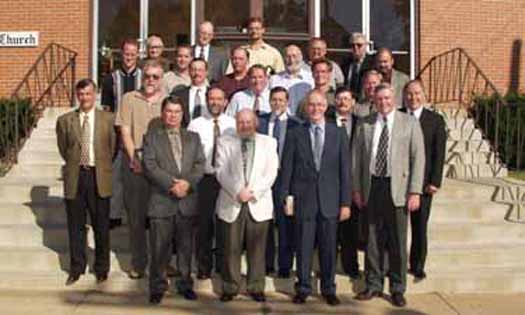 The goals and desires as expressed were: providing a format for further encouragement and mutual edification, as well as providing a means whereby they might work together on matters too large for individual churches to do on their own.
Work was begun on the Confession of Faith and By-Laws. The meeting ending with further work to be done and with the agreement that they would gather again to finish the project. Being Providentially hindered from meeting for one year, the group met again in Nashville on March 6, 2001. Most of the original group was in attendance as well as a couple of men who had not been able to attend the previous meeting.
The work on the Confession of Faith and By-Laws was finished with much discussion and interaction, all in the spirit of Christian unity and mutual commitment. The group is deeply grateful for the hospitality of Bro. Don Tindle and the Sovereign Grace Baptist Church of Nashville, Tennessee.
The Inaugural Group of Pastors
Agreeing to the final documents were the pastors/elders listed below.
Gene Breed
Grace Baptist Church
Jonesborough, GA
Larry Dean
Bridgetown Baptist Church
Nesbit, MS
Jim Gables
Oakland Baptist Church
Birmingham, AL
Tom Henry
Bible Baptist Church
St. Louis, MO
Gary W. Long
Sovereign Grace Baptist Church
Springfield, MO
George McGuinness
Reformed Baptist Church
Memphis, TN
Holmes Moore
Bible Baptist Church
St. Louis, MO
Dean Olive
Grace Baptist Church
Madison, AL
Ron Staley
New Hope Baptist Church
Mechanicsville, VA
Don Tindle
Reformed Baptist Church
Nashville, TN
Terry Worthan
Calvary Baptist Church
Winston, GA